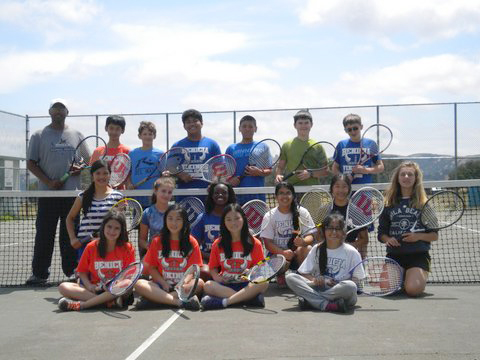 Welcome to the 8th season of our Benicia Middle School after school tennis program.
Our spring tennis program begins March 14 and goes through May 25. Instruction will be on Wednesdays from 3:30 -5 p.m. and on Fridays from 1:00 – 3:00 p.m. for all levels: beginning, intermediate, advanced. (Please note: This program does not include instruction over spring break week (Fri. March 30, Wed., April 4 & Fri. April 6)).
The cost for 10 weeks and 30 hours of tennis instruction is $180.
REGISTER:
You can pay online via the PayPal link below.
We also ask that you send the 2018 Player Registration Form (DOWNLOAD HERE) to BCTA Junior Tennis Director Jojo Donetti at jdonetti@gmail.com. If you prefer you can send in a check; the information you need to do so can be found on the registration form. Questions? Please contact Jojo Donetti via the email above.
Did you know that proceeds from our junior tennis clinics help fund improvements to the tennis courts at Benicia High School and Middle School? The juniors participating in these clinics are not only staying active, having fun and learning a sport of a lifetime, they and their families are supporting long-term access to tennis for our community. Thank you!
The photos below are from the summer 2016 tennis program.