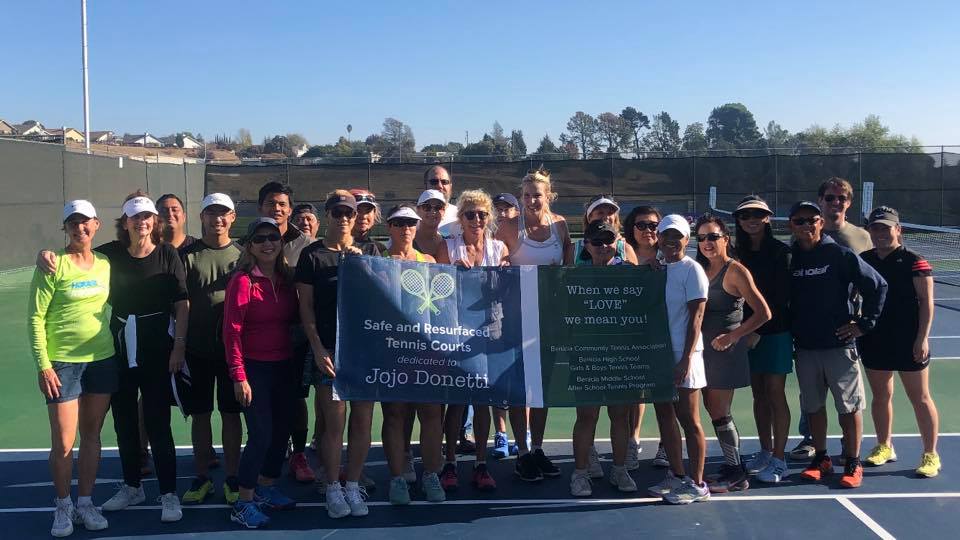 BCTA community involvement
Marched in the Benicia July 4th Parade
Volunteered at North Bay Mens Pro Challenger Tournament.
Held Ball Raiser event for BHS Boys Tennis team, to get new match balls and gently used practice balls, where donors participated in a 3 hour clinic with Coach Mac and Coach Kris for the price of one can of balls. We raised 100 new cans of tennis balls for the team.
Donated warmup jerseys for the BHS Boys Tennis Team and sweatshirts for the BHS Girls Tennis team.
Continued to attend BUSD Board Meetings, to raise awareness of success of our youth programs and get the courts fixed under Measure S.
Achievement:
BHS and BMS courts were repaired over the Summer and Fall of 2019!!! New asphalt, new net posts and new nets were installed as part of the overhaul of these facilities!
Youth Tennis Program
Despite the rainy Spring, we had 53 children participate in our after school programs at BMS over the Spring and Fall. Had 120 children participate in the Summer Camps, led by Coach Mac with Coach Kris
provided 138 hours of instruction
Adult Tennis
Hosted 17 USTA teams throughout 2019
13 teams advanced to playoffs
3 teams advanced to districts
2 teams advanced to sectionals
Hosted one tri-level tournament team
Provided 14 cases of balls for league play
20 players received year-end ratings increases
| | |
| --- | --- |
| LAST NAME | FIRST NAME |
| Aguilar | Jason |
| Barajas | Francisco |
| Broomand | Janan |
| Chen | Gina |
| Fallahi | Keyan |
| Guiam | Rochelle |
| Hickman | Darrick |
| Lewis | Elise |
| Maa | Stacie |
| McAllister | Lana |
| O-Hara | Bev |
| Oliver | David |
| Pomares | Jay |
| Ramos | Dale |
| Roh | Euna |
| Rubin | Josh |
| Russell | Sarah |
| Salinas | Flor |
| Schmidt | Steve |
| Yunior | Suwadi |
BHS Tennis Teams
Boys team finished undefeated, 8-0, to take first place in league play under Head Coach Jojo Donetti. Kai Wills defeated teammate Amir Adel in the finals of the League tournament to advance to the North Coast Sectional Individual tournament. The doubles team of Adrian Jacobs and Jason Ikenaga won the League title, to also advance to the North Coast Sectional tournament. Amir Adel replaced Adrian at Sectionals, to partner with Jason. At the Team Sectional tournament, Benicia High was defeated by Redwood High of Marin, the team that won the NCS title in 2018.
Girls team finished second in the league under Head Coach Melanie Voss, with the only losses during the season against Clayton Valley High, 10-2. Ashley Ko and Juliana Valencia won the league Doubles Title for the second year in a row, to advance to the North Coast Sectional Individual Tournament. Lisa Mimaki took second place in singles at the League tournament, losing to the 4th year in a row champion from Berean Christian.