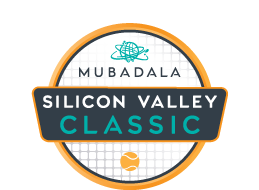 Formerly known as the Bank of the West Classic, the 2018 Mubadala Silicon Valley Classic is coming to San Jose State University this July 30 – August 5.
As part of the US Open Series summer circuit of tournaments leading up to the US Open. The event attracts the top women players on the tour; already the tournament has announced Serena Williams, Maria Sharapova, Madison Keys and Coco Vandeweghe will be playing.*  The entry deadline is late June and shortly thereafter we will be able to announce the entire player field.
The tournament is pleased to offer Benicia Community Tennis Association the following special discounts†:
25% off Stadium Premiere, Stadium Classic and Baseline Tier pricing for Sessions 1-9 (Monday through Friday Day)
15% off Stadium Premiere, Stadium Classic and Baseline Tier pricing for Session 10 (Friday Night)
15% off Premiere Courtside pricing for Sessions 1-5 and 7 (Monday, Tuesday, Wednesday Day, and Thursday Day
10% off Premiere Courtside pricing for Sessions 6 and 8-9 (Wednesday Night, Thursday Night and Friday Day)
Although no discounts are available for Saturday or Sunday or for the Premiere Front Courtside seating, please consider using this link so we can track how many members took advantage of this offer.
† Pricing is subject to increase after July 9, 2018
To purchase tickets at these discounts, click on the following Promo Code hyperlink:  MSVCBENICIA
If the link is not working, copy the following URL into your browser window to reach the discount ticket web page:
http://ev7.evenue.net/cgi-bin/ncommerce3/SEGetGroupList?prc=MSVCBENICIA&caller=PR&linkID=img-imgt14&RDAT=&RSRC
The link will take you to a custom page set that is pre-set to receive the discounts – there is no need to type in the Promo Code anywhere in the system if you use this hyperlink.  There is no deadline for using the Promo Code hyperlink to get discounts – purchases can be made up until the session date.  Please note that Print at Home and Mobile Delivery options are the most efficient delivery options.
When purchasing your tickets for the Mubadala Silicon Valley Classic, the charge on the credit card billing statement will appear as "IMG_SV Tennis."
If you have any questions or trouble using the special link, or would prefer to purchase over the phone, please contact Mubadala Silicon Valley Classic group ticket coordinator:
Andrea Norman
AndreaMSVC@gmail.com
(408) 892-7273
*player field subject to change
BCTA members receive discounts at 2018 Mubadala Silicon Valley Classic