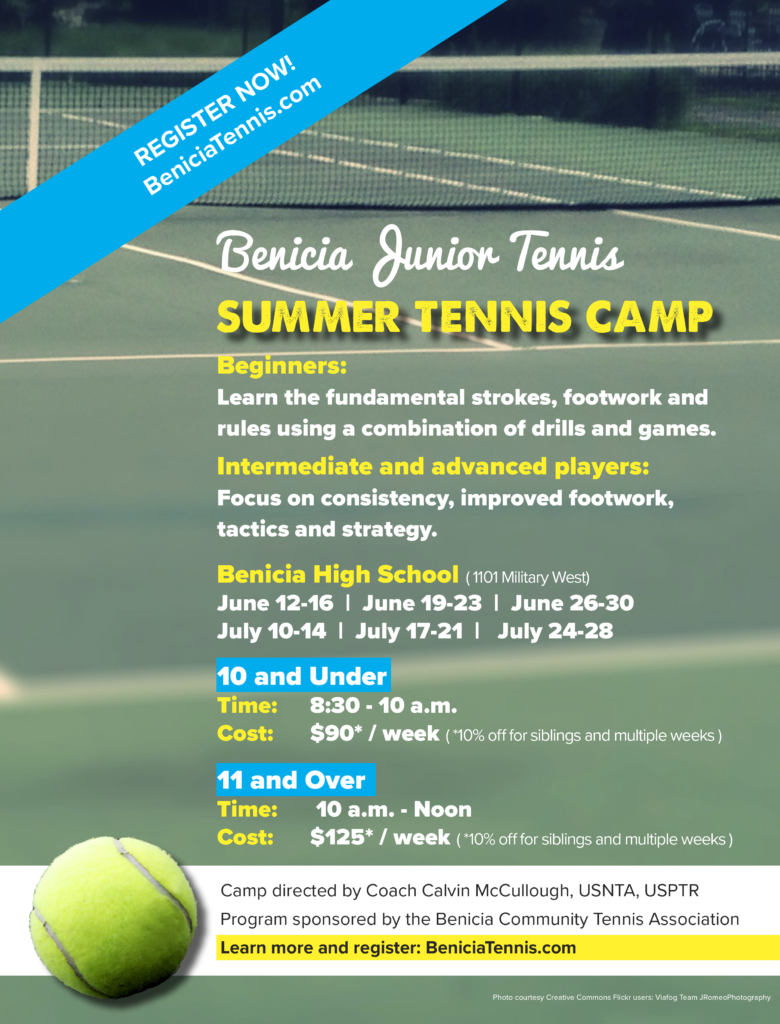 This summer we will be offering tennis camps at Benicia High School for juniors aged 7-17 who are advanced players as well those who are new to the game.
Beginners will learn the fundamental strokes, footwork and rules of tennis.
Intermediate and advanced players will focus on consistency, improved footwork, tactics and strategy.
10 and under camps:
Time: 8:30 – 10 a.m.
Cost: $90*/ week (*10% off for siblings and multiple weeks)
11 and above campus:
Time: 10 a.m. – noon
Cost: $125*/ week (*10% off for siblings and multiple weeks)
Monday – Friday Camp Dates:
June 12 -16
June 19 – 23
June 26 – 30
July 10 – 14
July 17 – 21
July 24 – 28
Student to instructor ratio: Coach Mac works with another 1-4 instructors, depending on the number of students enrolled in each clinic. The student to teacher ratio will be approximately 1 to 6 — for approximately every six students there will be one instructor.
DOWNLOAD THE FLYER (Adobe Acrobat .pdf)
REGISTER NOW!
Send the 2023 Summer Tennis Camp registration form (DOWNLOAD HERE) to BCTA Junior Tennis Director Jojo Donetti at [email protected]. If you prefer you can send in a check; the information you need to do so can be found on the registration form. Online payment is also an option. Please let Jojo know if that is what you would like to do.
---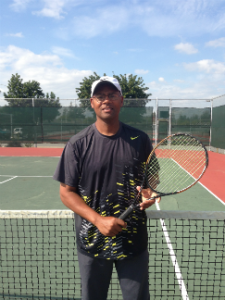 ABOUT COACH MAC:
The camp is directed and taught by Coach Calvin McCullough "Coach Mac," along with multiple assistant teaching pros. Coach Mac is a United States Professional Tennis Registry (USPTR) registered Level One Pro and a United States National Tennis Academy (USNTA) tennis instructor with over 20 years coaching experience with juniors, high school teams, and adults. He is also a certified United States Tennis Association (USTA) referee and umpire.
QUESTIONS and /or PAY ONLINE:
Please contact Jojo Donetti at [email protected].