Excerpted from an email sent by Jojo Donetti on March 13, 2016
---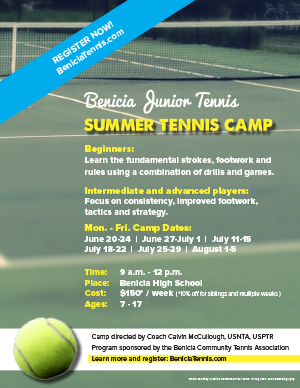 Hello Members,
Here's the news for March 2016!
BCTA Board of Directors
At the February 2016 Board of Directors Meeting, the following Board members were elected to serve a one year term for 2016:
President – MarieAnne Tabtab
Vice President – Terrye Light
Secretary – Louise Brown
Treasurer – Jojo Donetti
Also selected for informal BCTA positions were:
Communications & Website Maintenance – Katie Hetrick
Merchandising – Matt Low
Court Management – Ron Tabtab
Social Committee – Louise Brown, Mary Beyer, Terrye Light
Parent Liaison – Mary Beyer
Junior Tennis – Jojo Donetti
BCTA is an all-volunteer community tennis association. Thanks to the members above who are giving their time to lead our organization. Congratulations to all!
BCTA Junior Tennis
It's been a wet Winter tennis season @ BMS but that won't deter us from the start of the Spring Session on April 6th. Spring session will be held on Wednesdays and Fridays. Registration forms are at BMS and on the BCTA website.
REGISTER FOR SPRING AFTER SCHOOL TENNIS.
Is it too early to be thinking about Summer Camps for the kids? No!
We have six weeks of camps planned for this summer, starting June 20th. Camps will run Monday through Friday from 9 a.m. to noon. More information will be on our website in April!
REGISTER FOR JUNIOR TENNIS SUMMER CAMPS.
Website Update
We are very fortunate to leverage Katie Hetrick's marketing and communication skills in creating an updated website. She's hard at work on it, should be unveiled by April 1st.  Katie is also updating our Facebook presence. Stay tuned….  
BHS Tennis
The Boys 2016 season has started and they are undefeated so far in this rainy season. Good luck!
2016 Adult Teams
The 18+ USTA Leagues start the first week of April. Please contact the captain before you sign up for a team:
Womens 3.5 – Cindy Bazan
Womens 4.0 – Katie Hetrick
Womens 4.5 – Jojo Donetti
Mens 3.5 – Dan Bazan
Mens 4.0 – Ron Tabtab
All member update: March 2016